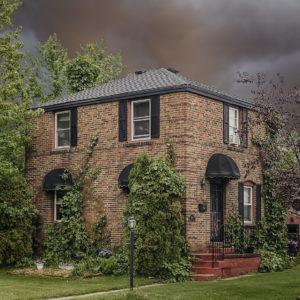 Have you been home recently? Not where you usually hang out but where you used to live. You know, where all the memories are.
Some memories are exceedingly stable. You remember your name probably better than anything else. You've heard it all of your life. It's the one thing you won't ever forget. Which is why paramedics ask you: "What's your name?" If you can't remember, something is very wrong.
If you lived in one place for a long time, you probably remember the street address and phone number. These old memories are very stable. But other memories only come back with some assistance.
When people who go back to the house they grew up in, they are often flooded with memories. Everything seems to rush back. It's like a time machine. It's the same lighting, same furniture, and the same smells and sounds. The emotions these memories induce can be overwhelming.
Why do we remember things only when we go home? Is it the magic of love?
A nice thought but no.
Ever thought of something while in the kitchen, walk into the living room and lost the idea? It's just gone. Can't find it anywhere.
Yet when you walk back into the kitchen, the idea pops into your head again.
Sometimes this is called the Doorway Phenomenon, this is a common experience. It happens because your parietal lobe is keeping track of where you are in relation to all of the objects around you. When you look one direction, the parietal lobe makes a 3-D map of your environment and passes the information on to the rest of the brain. When you shift your focus, the parietal lobe redraws the map.
Small changes in location, one side of the room to the other, don't require much redrawing. But when you leave one room and enter another, all of the cues have to be redone.
It's these location cues that help us remember. When you walk back into the kitchen, the location cues are redrawn by the parietal lobe and the rest of the brain says "Ah, I've been here before" and hunts for all the records of your previous visits.
When the location cues are remarkably different—going from where you currently live back to your home town—there is even more to remap and recalibrate. When the data banks are checked, all of the memories previously associated with HOME are assembled and delivered to you all at once.
You don't always have to go home to get the same effect. There are two ways to generate old memories.
First, look at old photos. We remember photos better than we do real life. It's mostly because we only get one shot at real life but can look at photos multiple times. But as popular author,
Gretchen Rubin, says "One of the best ways to make yourself happy in the present is to recall happy times from the past. Photos are a great memory-prompt, and because we tend to take photos of happy occasions, they weight our memories to the good."
Click To Tweet
Second, you can use your imagination. It works better than you think it would. Instead of changing where you are, pretend you are where the memories are. Use your imagination. Visualize yourself in your home town. Pretend you are at the old house. This works for the kitchen-living room problem too. Picture the kitchen in your mind; where were you standing, what were you doing?
We use location cues all the time. When reading a book, we might remember what is at the top of page 34. In a classroom, we might remember a point because the prof circled it with colored chalk. During a game, we find the home team advantage is actually our familiarity with the court.
Like real estate, when it comes to memory, it's all about location, location, location.
Click To Tweet
For more on this topic, go to: