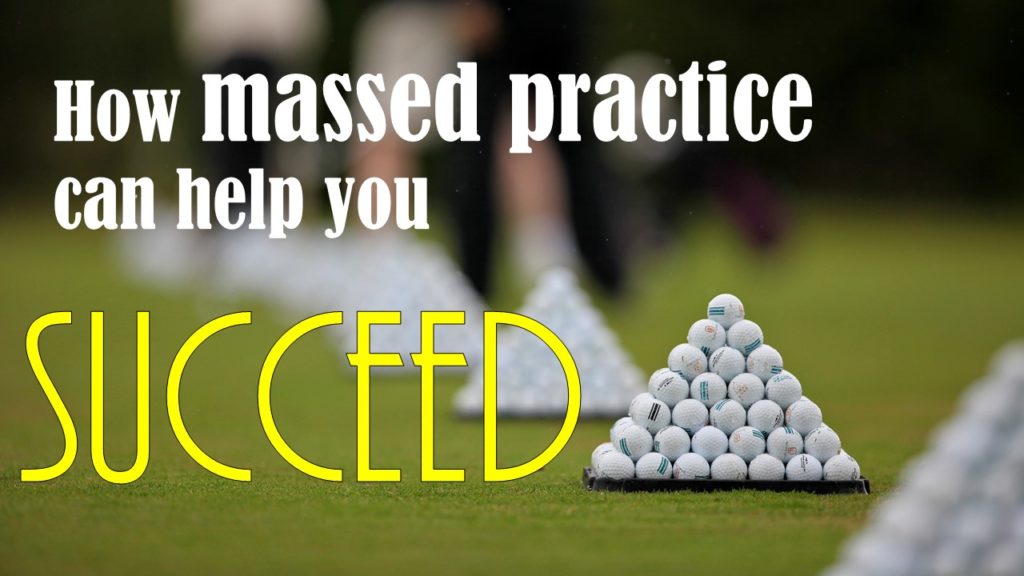 Ever gone to a driving range and hit a few buckets of ball? Ever gone into a batting cage and got lost in the pleasure of hitting the ball? Ever enjoyed dancing until your feet hurt? These are the pleasures of massed practice.
Massed practice describes what athletes, dancers and musicians do for hours. It is practicing your scales on the piano, writing your ABCs repeatedly, or mastering the double-paradiddle on the drum practice pad.
Massed practice is repetition within a single session. It is what you do when cramming for a test, re-rewriting a sales presentation and baking dozens of cookie batches. It is what people consider normal practice.
As Opposed To?
The other option, aside from massed practice, is distributed practice. Distributed practice is also called spaced practice because you space your training session over time. Distributed practice is a little a day. Massed practice is all at once.
There is a lot of praise for distributed practice but little respect for massed practice. Distributed practice is better for long-term retention, uses fewer hours and delivers higher levels of performance.
But massed practice has its uses. Don't dismiss it. It is a tool you should have and understand how to use.
Five Reasons To Use Massed Practice
Use massed practice when you want to be in the flow.
Doing something repeatedly leads to the experience of flow or "being in the zone." This experience in energizing and calming at the same time. You focus on a task and defocus on your worries and cares.
Doing a repetitive task can be meditative. The immediate feedback from the task increases your reliance on the limbic system's procedural memory and decreases the activity of your cerebral cortex.
The task is less important than the repetition but continuous motion tasks work best. Try pulling weeds, raking sand, swimming, dancing, yoga, or continuously hitting a ball (golf, baseball, tennis, handball). Do anything that provides full involvement. The result is not so much being hyper-focused as being single-focused. Many a yard has been mowed to an inch of its life to free one's mind from conflict.
When there is no other choice.
Real life sometimes gets in the way of our best plans. It is, of course, better to study a bit every day but sometimes there is no opportunity to do so. It doesn't happen often but when it does, use massed practice.
Usually, the limit on our time is artificial. We don't want to study. We don't want to do our paperwork. We don't want to file the contracts. We procrastinate, get busy putting out other fires, and avoid doing tasks we don't enjoy.
But we must "dig in," "fire the booster rockets," and "do an all-nighter" when the exam is tomorrow, the boss comes back into the office tomorrow and the contract deadlines are due at noon.
When you are a sprinter.
The fable of the tortoise and the hare concludes has several morals: don't boast of you ability, don't goof off, and lose track of time. But it misses the truth that some people are tortoises and some are hares.
We do have different styles for many things we do. I know writers. Some are sprinters. They write quickly and smoothly. They can punch out a story, post, article or book in a flash. The best sprinters have good editors who go through everything and make you redo portions.
Tortoise writers also need good editors but their pace is different. They work everyday, usually in set hours, doing the work. Both styles of writing can produce good work but the creation process is different.
When it comes to learning, there also are tortoises and hares. Some plod through the work. Others quickly devour it. The trick is to know which kind of learner you are and to adjust your schedule accordingly.
Tortoises need to create a set schedule to study, review, read, etc. A little bit every day. Sprinters need to find larger blocks of time. You can, and should, distribute them but each session for a sprinter will be longer.
When you don't want to learn too much
Professors think you should always want to learn everything you possibly can. That's how their minds work. It is what they do in practice.
Click To Tweet
But sometimes all you want is an overview. You don't want the whole course, just enough for you. Singers don't need to be fluent in six languages. They need to be able to sing in six languages, a much smaller goal.
When you are keynoting a convention, you don't need to know everything about the group but you certainly want to immerse yourself in the company culture. You want to know enough to make your speech memorable. But you've got another speech at another conference next week. You don't want to learn too much.
When all you want is short-term gain
Distributed learning will help your long-term gain but massed-practice is best for short-term gain. Sometimes that's all you want.
Have you every studied up on a topic to impress someone? Have you ever watched a few extra movies so you can better connect to a friend? When you don't want long-term retention, massed-practice is the way to go.
Want to understand your friend better? Watch a marathon of Star Wars, Star Trek or all of the Broadway shows you can stand. You don't be an expert. But you'll have made short-term progress.
For a practical tip, Click Here for Are You A Blogging Sprinter?